Hi, everybody! It may sound strange that a girl who lives in Medellin, "The city of eternal spring", which is considered one of the cities with best weather conditions around the world, wants to write an article about chic winter outfits. My hometown is Bogotá, a city known as "Colombia's fridge", people use to say that my city is cold and ugly. Despite all this, I love it! Hehehe. Although Medellin has a nice weather, I must admit that sometimes I miss Bogota's weather. I love to put together cold weather outfits, with garments like vests, ponchos, coats and jackets.
In this post, we'll look at 9 Chic Winter Outfits that you need to try, that will come in handy when you don't know what to wear on winter.
I enjoyed writing this article, because I love winter garments! Let's begin!
Faux Fur Jacket
It must be a FAUX FUR jacket, we don't want that any animal unnecessarily suffers in the process. There are excellent options of low-cost brands. Faux fur jackets will make you look chic and you cannot go unnoticed.
They are available in hundreds of colors, if you want to look slimmer wearing a faux fur jacket, then choose the ones with the darkest colors like burgundy, black, navy blue, or emerald green.
If your shoulders are big it is not the best fit for you, because this garment will make your shoulders look wider. Remember that the garments you choose to wear will depend on the image you want to project . Choose garments that make you feel beautiful and comfortable.
Sleeveless Coat
Sleeveless coats are extremely chic. Match them with basic white shirts, you will look even more stylish. Roll up the sleeves of the shirt to look casual. On the contrary, if you want to look formal, don't roll up the sleeves.
If you want to look more feminine or you have a rectangular body shape, a good option for you is to wear a cut to the waist sleeveless coat.
Sleeveless coat's for petites and short people should be mid-thigh-high. Match them with skinny jeans, straight pants, A-line skirts, or pencil skirts . Avoid Palazzo pants or long skirts, these will make you look heavier and shorter.
Culottes
This kind of pants can be worn in winter too. Wear them with biker jackets, aviator jackets, oversized sweaters, ankle boots or heels. Be inspired by these cute looks!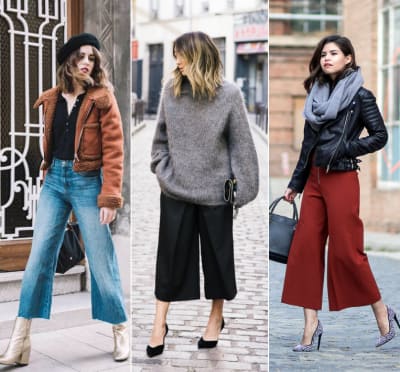 Turtleneck Sweater
I used to have a love and hate relationship with turtleneck sweaters, because I have a rounded face shape, and it is well known that turtlenecks make your face look wider. But, one day I saw such beautiful sweater that I decided to give it a try! – Despite what image consulting theory says –. To my great surprise, this sweater fitted me really well, I felt super cute wearing it. So, I took the decision to give the garments that draw the attention a try.
Image Consulting theory gives you an idea about what can works or not, but it is not something definitive. There are multiple variables in a garment like its cut, color, or fabric, that can make it a good fit or not. So, every-time I go shopping and I see something cute, I try it and I decide if it's good for me or not.
Turtleneck sweaters are super versatile, they can be mixed with a grand variety of garments. In my opinion is another wardrobe staple, especially the ones in neutral colors like white, black, grey or camel. Turtleneck sweaters can be worn with skirts , pants, jumsuits, coats, and all kind of jackets. The possibilities are endless!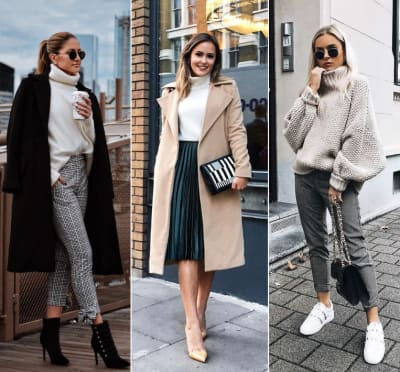 ---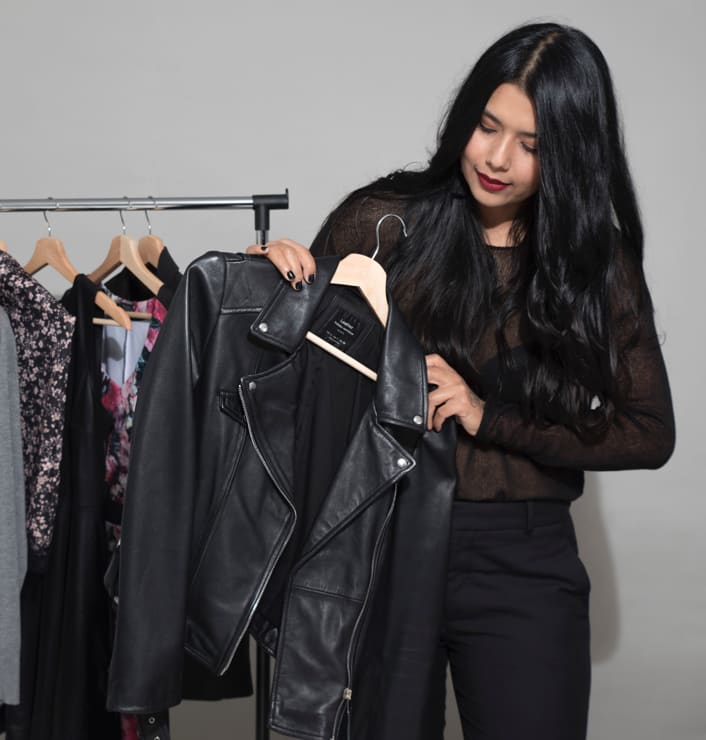 WHAT TO WEAR
FREE GUIDE
This guide will help you create the image you've always wanted, understanding how garments work and what effects they create in your body.
---
Trench Coat
Trench coats, are so beautiful! they were created for soldiers in the First World War. They needed a versatile garment to keep them protected against wind and rain. It was created in England by Thomas Burberry in 1912. The classic color of the trench coat is camel or nude. It is so chic that it never goes out of style!.
I must confess that this is one of those garments that I'd love to buy someday but can't yet afford. For now I'll settle for the options that low-cost brands offer me. 😉
This beautiful coat is considered a wardrobe staple. It has earned this title because it can be worn with every kind of tops, pants, skirts or dresses. You can create formal and casual chic winter outfits with a trench coat. It's a winter must-have!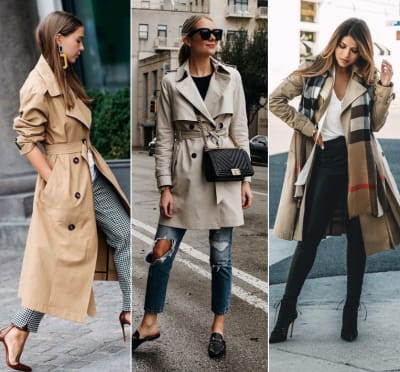 Wool tights, cashmere stockings
I personally like the mix of wool tights with dark ankle boots, because it makes my legs look longer . But, If you're tall and have long legs , you can wear contrasting colors in your boots and tights. For example, yellow ankle boots with purple cashmere stockings.
Wool tights give to the Naif Style lovers a childish and cute look.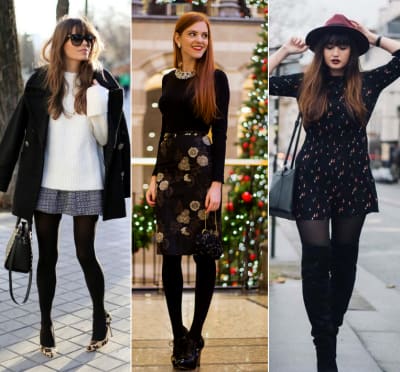 Long Sleeve Dress
Wear whatever dress you like in fabrics like wool, tweed, or cotton. These kinds of materials will keep you warm and you'll look amazing!
The shape of the dress varies depending on your needs. If you want to make your waist look smaller wearing a dress, then choose cut to the waist dresses. If you want to make your legs look slimmer wearing a dress, try straight cut dresses or A-line ones.
The length of the dress for a petite should be before the knees, to make a visual illusion of longer legs. If you're tall any length works well.
Edgy girls can be inspired by the Olivia Palermo's look. She is wearing a high neck long dress, skinny black pants and ankle boots. It is such an amazing chic winter outfit!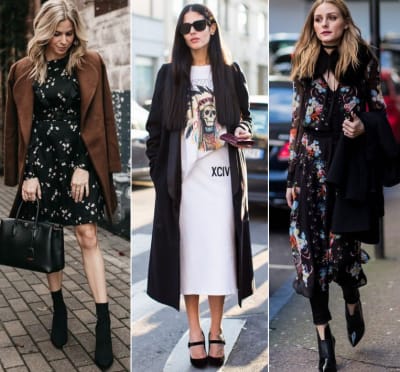 Ankle Boots
With colorful ankle boots, you can put together chic winter outfits. Ankle boots go well with skirts, dresses, jumpers and pants.
In my opinion chunky ankle boots are the most versatile, they are comfortable and they make you look taller. The more vibrant the color of the ankle boots, the better! Be inspired by these looks!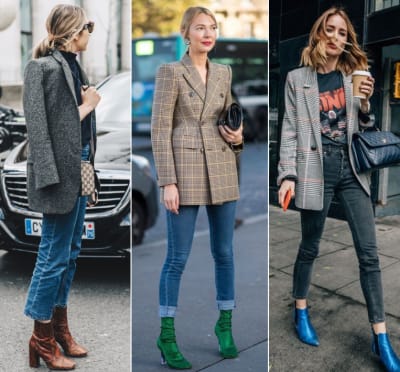 Poncho
This beautiful garment is known in Colombia as "Ruana", there are two departments where people wear ruanas. The first one is Boyacá – A department that has, in my opinion, the most beautiful typical towns in Colombia – and the other one is Antioquia. I have a ruana from Boyacá, that my father gave me as a present, which I sometimes use as a blanket. It is very popular in Colombia that people use ruanas as blankets.
I love the mix of a pair of skinny jeans, high pointed heels , a sweater and a poncho. This is one of my favorite chic winter outfits when I go to Bogotá. I feel beautiful and it keeps me warm.
Include this beautiful garment in your wardrobe. I assure you that you won't regret it.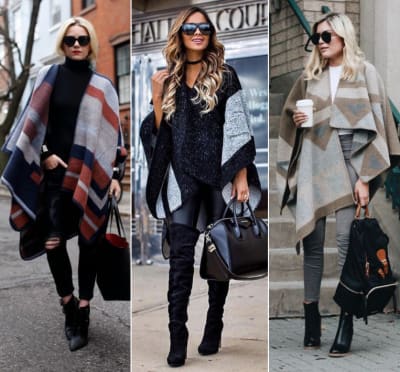 Well, the article ends here. I hope you enjoyed it, and you dare to give one of these chic winter outfits a try!
What's your favorite chic winter outfit? Let me know in the comments below!
---