The women's suit reinvents itself! In the past, it was considered a corporate and dull outfit. Nowadays it has become totally fun and it works for casual outfits too. The women's suit is versatile and it can be used in a variety of occasions like a dinner, to go to work, a friend's meeting, or just plain every day.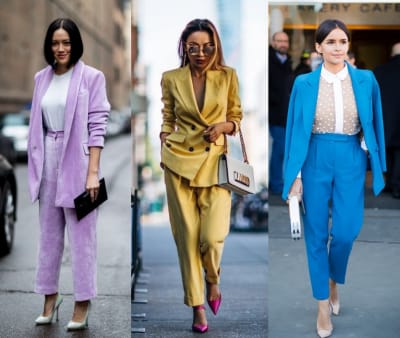 This is the first article of a series of Women's suit posts that I'm going to write specially for you! In the next article you'll learn How to look feminine or boyish wearing a women&amprsquo;s suit and How to wear a women's suit for your body shape .
If you dont' want to miss any of these articles, don't forget to subscribe! 😉
In this article, you'll learn how to complement a women's suit with accessories and how to stylize it in order to create casual looks and work/formal outfits. Your options are endless! It's all up to you and how you wanna look!
---
Women's suit casual outfit
Suits were considered exclusively as a formal attire, but that doesn't mean that it can't be reinvented and used for casual occasions too. You can alter the look of a suit just by changing the accessories you wear with it or other details that will make it more casual.
Sneakers
You can turn a suit into a casual outfit, just by changing formal shoes for sneakers. The most versatile sneakers you can have, are a pair of white sneakers.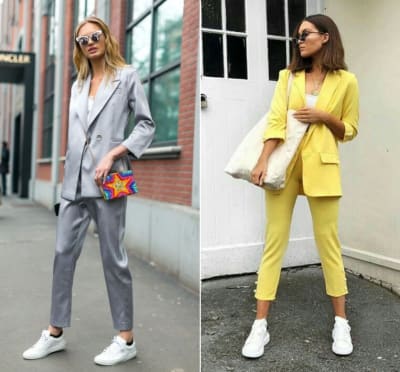 Women's Suit Casual Outfit with Tees
Besides the sneakers, another way to make your suit look casual is by wearing a basic tee in neutral colors like white, black, grey or deep blue. Trendy and Rocker girls can replace this basic tee for a rock band tee or a graphic tee.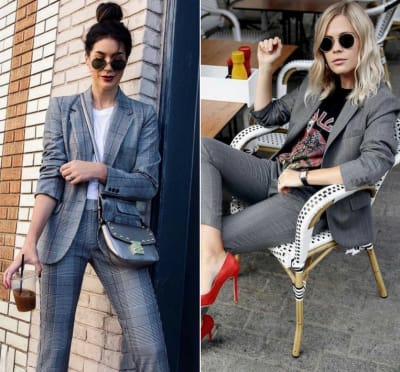 Oversized Suits
Oversized Suits are an excellent option when you're putting together casual outfits. Preferably try them with a slim fit tee, that way you'll get a more balanced outfit as a result.
Women's Suit Shoes
Just because an outfit is casual, it doesn't mean you can't wear it with heels. Casual looks can also be worn with high heels. Choose your heels with bold designs, vibrant colors and non-conventional fabrics. Casual looks are extremely versatile, you can try different bold and fun mixes, unlike the formal looks.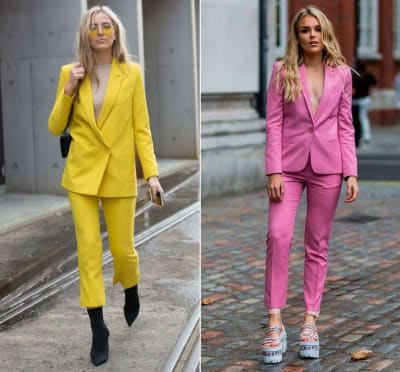 Suit Casual Outfit Colors
Try unconventional colors. You have hundreds of options. Try vibrant colors like red, fuchsia, yellow or electric blue. Another option is wearing pastel suits like a pink suit, light blue, or even turquoise. These kinds of colors will make trendy looks.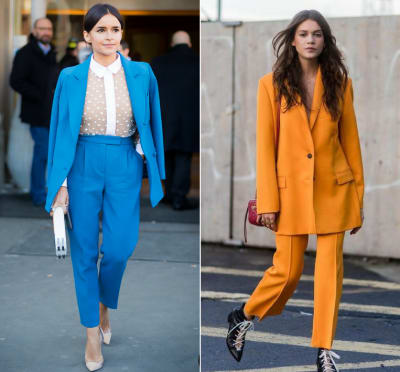 Roll Up the Sleeves!
Roll up the sleeves of the suit's jacket to make it look modern and cool!
Try Different Fabrics
Wear women's suit with unconventional fabrics like velvet or satin.
---
Women's suit formal/work outfit
In order to wear a suit for a formal occasion or for work, you will need to take into account to wear a special suit's cut, fabrics, and accessories that will make you look elegant and structured.
Suit's cut
Wear a tailor-made suit. Avoid oversized suits. You'll need a suit that doesn't unbalance your body shape. The suit shouldn't make your shoulders , hips or legs look wider.
Women's Suit Colors
Choose neutral colors like deep blue, black, or brown. Classic colors for a formal outfit.
Fabrics
The suit's fabrics could be wool or tweeds. Avoid trendy fabrics like velvet, satin or corduroy, these ones are more appropriate for casual looks.
Accessories
Accessories like basic purses, simple necklaces, and basic heels in neutral colors are a really good option. A pair of nude heels can be your best ally, they go with everything!
Women's suit blouses
Try ruffled blouses, cashmere rollneck light sweaters, or basic shirts in neutral colors. Avoid printed tees.
---
I personally think that fashion nowadays is super cool. It allows you many variations, lots of options for different styles and kinds of women. It is awesome to wear a pair of jeans on those days that you want to feel comfortable with an effortless look, it is totally a pleasure! That makes me think about how women in the past were not allowed to wear such garments, just because they were exclusively for men. That's so sad! All of this changed thanks to Coco Chanel, she changed fashion forever.
Did you know that she was one of the first women to wear a suit?. Women went from corsets and lots of clothing layers, to a casual style with loose silhouettes that allow women to feel comfortable and free to move. This important change in fashion means one word to me: freedom!.
I want you to feel free too and find the style that you want to project. This post is a perfect opportunity to invite you to ask yourself: "what's the image I want? what truly represents me? what makes me feel comfortable?"
There are many kinds of women with different styles. Maybe for you feeling comfortable and cute is to look impeccable every time wearing a suit in a formal way. Or perhaps you are a creative girl that enjoys experimenting and creating bold and casual looks. What style of woman are you? let me know in the comments below and don't forget to subscribe to my blog! Even if you have a love/hate relationship with fashion, this blog is for you too!
Don't miss the other articles of this "How to wear a women's suit" series!
👉🏾 "How to look feminine or boyish wearing a women's suit"
👉🏾 "How to wear a women's suit for your body shape"
---