In order to match a lipstick with the color of a dress, first, you need to know that there is one lipstick shade that is extremely versatile. It goes with every skin tone and outfit color. Wanna know which is this miracle color? 😮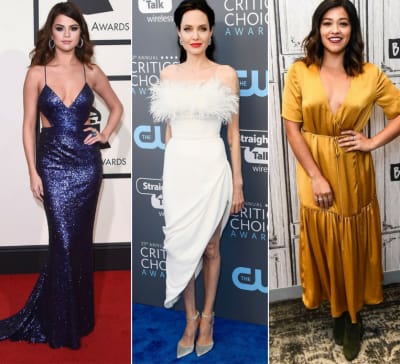 Tada! is… Cool Red Lipstick! I'll dare to say that cool red lipstick is the new black. If someone would ask me "If you were on a desert island and could only bring only one makeup thing, what would you bring? I'd say for sure, a cool red lipstick .
The shade lipstick that goes with everything
Cool red lipstick goes with every kind of style. Like casual , sporty, edgy outfits, and even red carpet looks. With every skin tone, because it tends to look great in fair skin, dark skin and olive skin. The blue undertone of this lipstick can balance the yellow undertones of every complexion. Even some fair skins can look a little bit yellow, for instance when the person is sick or pale. You can see the power of a cool red lipstick when your teeth look yellow too. Applying a Cool Red Lipstick on your lips will reduce the yellow shade on them. As a result, your teeth will look whiter and shiner.
It's just plain amazing! Look at the different tones and skin colors on the image below!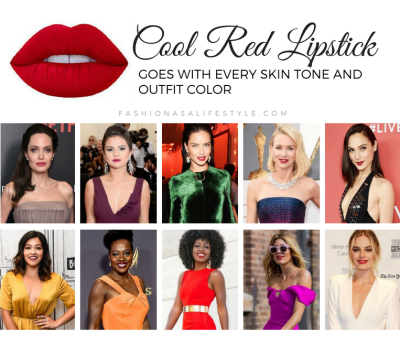 Lipstick with a yellow dress
All depends on how you want to look . Do you want to look cheerful and young? Then, match a pink lipstick with a yellow dress, like Emma Watson. Do you want to look sexy? Mix your yellow dress with a burgundy lipstick. Wanna look sophisticated? pair it with a nude lipstick like Blake Lively.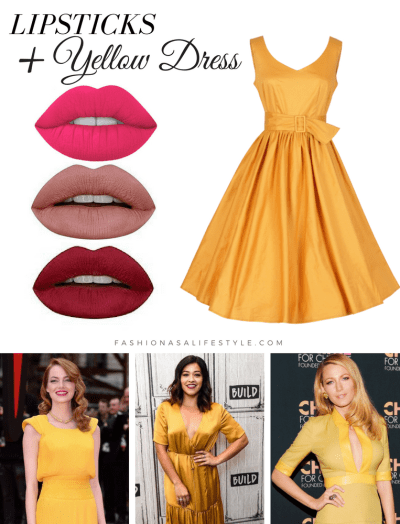 Lipstick with a blue dress
A blue dress can be mixed with an orange lipstick which is, in my opinion, a hard color to combine. Blue and orange are complementary colors and they balance each other. It's a really cool way to stand out from the crowd! Another way is mixing a blue dress plus a cool red lipstick. You can see both colors in the UK flag, they look perfect! On the other hand, A blue outfit with a nude lipstick allows to play with a bold eyeshadow makeup, take a look at Selena Gomez' look.
Lipstick with a red dress
Red + Red. Red lipsticks and red outfits are a great mix! you may wonder, isn't it too much? No, it's beautiful and sexy! just take a look at Kendall Jenner look. The red shade that you choose for your lipstick depends if you look best in warm or cool reds. In order to figure out if you are warm or cold, I recommend you to visit a makeup store and try different red shades. Try warm reds that look more yellow or orange, and cool reds that look more magenta, pink or wine. Choose the shades that make you feel prettier and your skin tone look beautiful.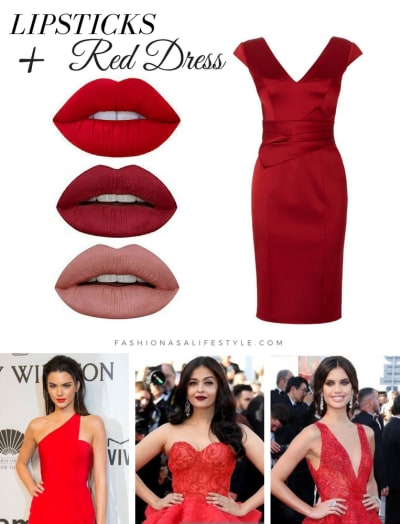 Lipstick with a grey dress
Grey is a neutral color like black and white. It goes with a grand variety of lipstick colors. You can mix it with a burgundy lipstick, to look sexy like Angelina Jolie. If you want to look fresh and young mix your gray dress with a warm red lipstick. For a chic look, mix your grey dress with a nude lipstick, remember that there are lots of nude shades! it is not that easy to find the perfect nude color, but it's worth the investment! It took me a long time to find my perfect nude. I think it is another essential lipstick that you can't miss.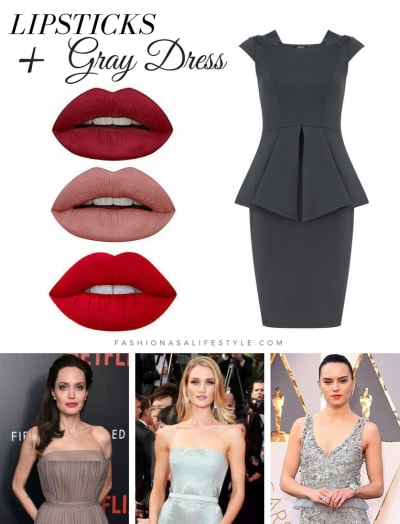 Lipstick with a pink dress
In my own experience, pink dresses look great with analogous colors like magentas, fuchsias, hot pinks, rose pinks, purples and wines. All depends on how you want to look. For a trendy look, mix you pink dress with a wine lipstick. For a cheerful image mix it with magenta. If you want to look young and you're not afraid to stand out, mix your pink dress with a hot pink lipstick.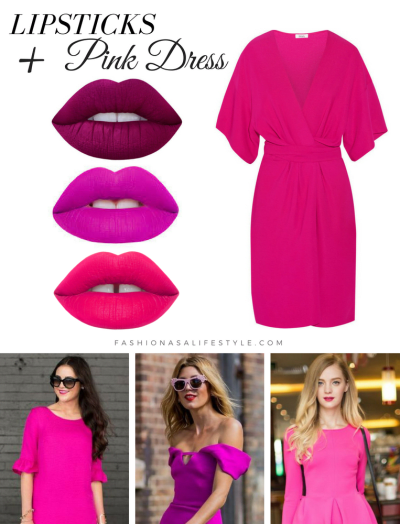 Want more inspiration? Subscribe to my blog! 😉 What's your favorite lipstick outfit match? Let me know in the comments below.
---