Hi girls! Since I started this blog, I've been reflecting about opening this new section. This is a more personal space, where I share with you my outfits and the inspiration behind them. Moreover, the way I see fashion, life, my joys, and personal challenges.
Speaking of challenges, a big one for me is taking pics of myself, even more taking them on the street. A big part of my insecurities has to do with the fact that some men in my country have a bad custom of saying "piropos" to girls. Piropos is a compliment, that men say to women in the streets. I don't like them. They make me feel uncomfortable because some of these compliments are obscene. Also, I've never pictured myself as a photogenic person, but as time goes by, this fear to be in front of a camera has vanished. Now I can smile in front of a camera! And that makes me really happy!😄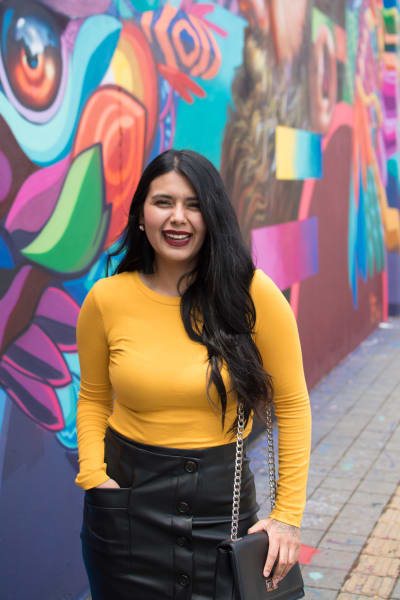 I've always admired those amazing street style pics of beautiful fashion bloggers that I find on Pinterest . I always fall in love with those astonishing outfits, the colors, the places, the garments… Has it ever happened to you?.
So, feeling inspired by my fashionistas divas, one day I told myself: "Dayana, taking a photoshoot in the street is something you need to try, you have nothing to lose! The only thing that could happen is that you don't like the photos, and you can just delete them. Or maybe, you end up loving them. Whatever happens, if you don't like these pics, you can try it again another day". So, thanks to all these reflections and my fashion muses, I decided to gave it a try and this is the result:
A street style photoshoot? I had never considered this!
In the beginning, I felt weird and ashamed.🙈 I remember that crossing the street there was a big restaurant full of people. I felt observed, but I tried to do my best to look confident —Although I didn't feel that way—. That experience made me realize that one way or another "Fake it until you make it" works!. Step by step, photo by photo, I felt more confident and the pics were more beautiful.💁🏻 I realized that getting out of your comfort zone makes your life more meaningful and exciting. I won't deny that in the beginning it is uncomfortable and hard, but you soon realize that these efforts are worthwhile because they make you feel stronger inside.💪🏽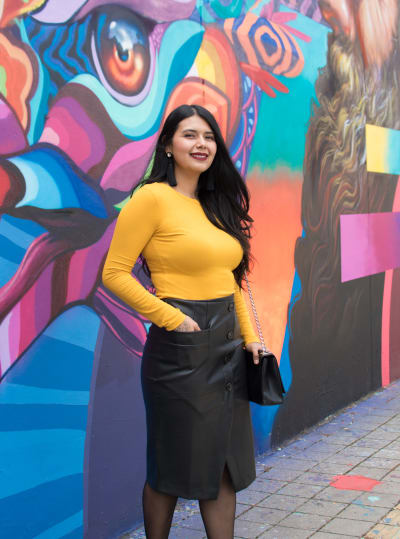 Defeating the fear to the yellow color!
As this was the first time that I took photos on the street, it was also the first time in my whole life that I wore something yellow. I was very skeptical about this color, because sometimes my skin looks like Lisa Simpson's skin, hehe. But I noticed that this particular yellow shade fitted me well. Even though the tone of this sweater was vibrant the makeup helped to create a balanced look. The red cold lipstick helped me reduce my natural yellow skin tone.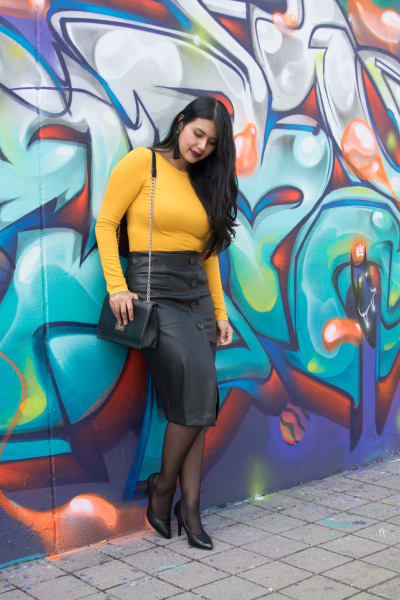 Rocker Chic: This is my style!
I love to combine chic garments with edgy ones. Both styles make an interesting look. The chic items in my outfit are: The statement earrings and this beautiful yellow sweater.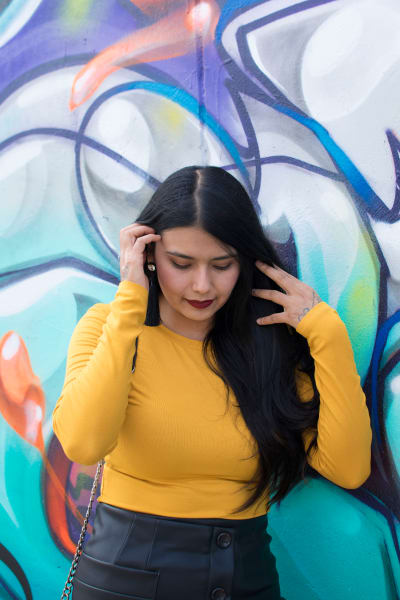 The edgy touch is given by a faux leather pencil skirt and black stockings.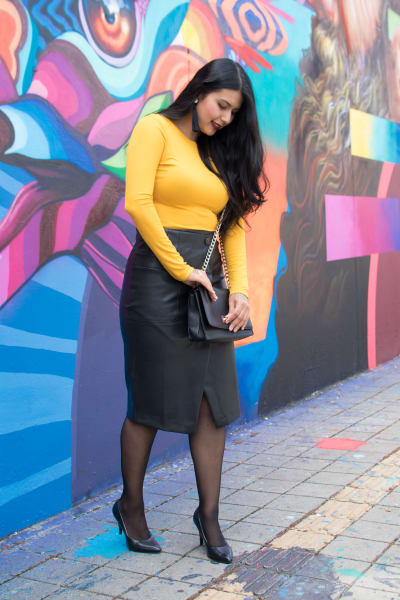 I complemented my outfit with a cross-body bag, which is one of my favorite bags because it goes well with all my outfits. And a pair of classic pointed black heels, that makes my legs look longer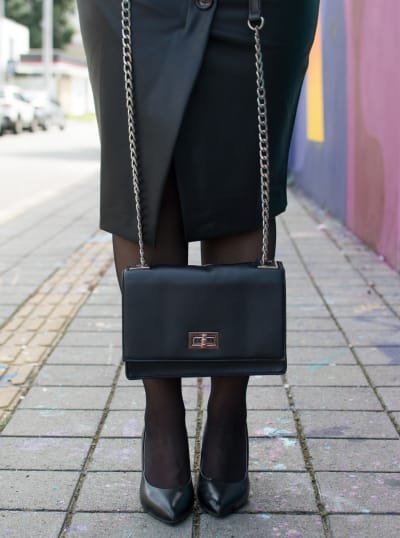 Tip: The pocket of my skirt was extremely useful because I didn't know what to do with my hands while I was posing. Hehe. For a beginner like me this was lifesaver.😅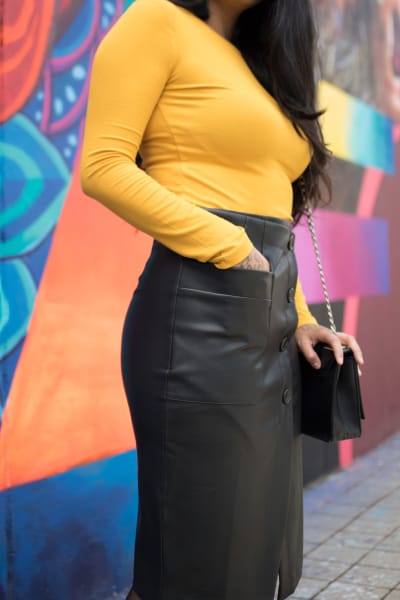 This is a beautiful place if you're planning to visit "The city of the eternal spring"
We took these pics in a neighborhood called Poblado in Medellin - Colombia. If you're planning to come here, this is a place you need to visit!
Near the place we took these photos there are three places that I like a lot. The first one is one of the best coffee shops in Medellin it's called Urbania, is without a doubt one of my favorite places. If you are a coffee addict like me, and want to taste good Colombian Coffee, this is a place you need to visit.
The second is a restaurant called La Matriarca with delicious seafood and typical Colombian dishes. The third one is Bestia with the best smoked sandwiches!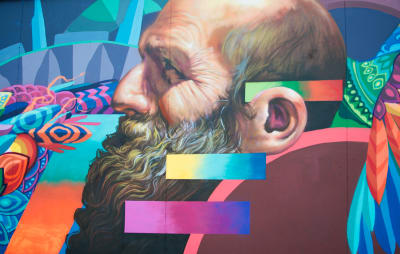 I hope you enjoyed this post, as I did! I invite you to face your fears, no matter how insignificant they may be! These little changes make us stronger! Rock on girl! Bye!🤘🏽