This Metallica tee is not just a Rock band t-shirt! This shirt means to me: Resilience, Love and berraquera!
Berraquera in Colombia, is a slang that has different meanings. But in this exact context it means courage.! 💪🏽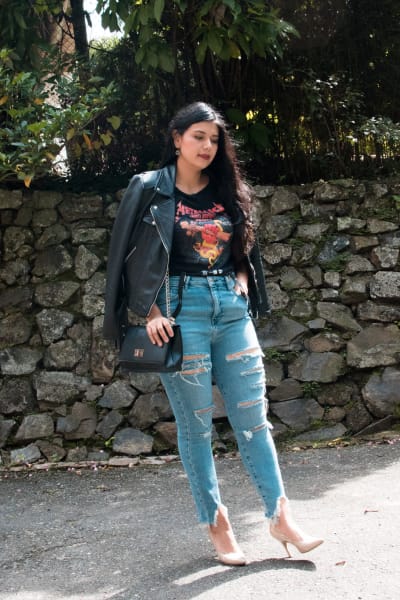 Let's Rock n'Roll
Everything started one day when I saw a facebook ad, the Philharmonic of Medellin was going to perform a Metallica's tribute. It was called: "Metallica: A show to be seen with your ears". Without hesitation I bought two tickets, for my husband and me.
The long-awaited day arrived!! 🤘🏽 that day we were enjoying the amazing show! Listening to "No Leaf Clover" and "The Memory Remains" was awesome! I'd have liked the show was longer. I like many songs of them, especially from the album "Kill 'Em All", it is my favorite one. Hehe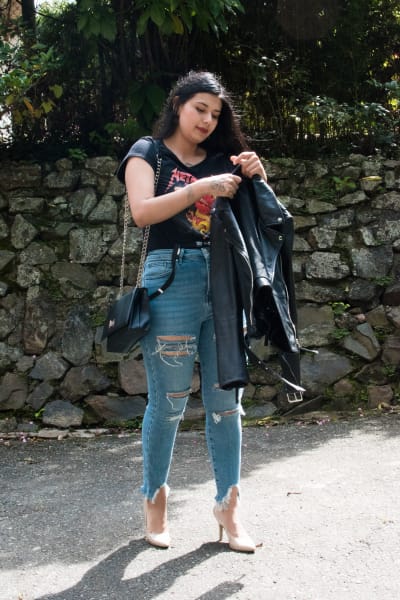 In the middle of the show the Philharmonic played "Enter Sandman". We saw how a blind kid began to sing the strophe: "Now I lay me down to sleep, I pray the Lord my soul to keep, if I die before I wake, I pray the Lord my soul to take". 🖤
😱 I was astonished, to see this kid singing before all of us. This brave kid, unable to see anything at all, feeling the music and the good vibes of all the people there. I was speechless and my eyes were wet in tears. It was a unique and emotional moment.! 😭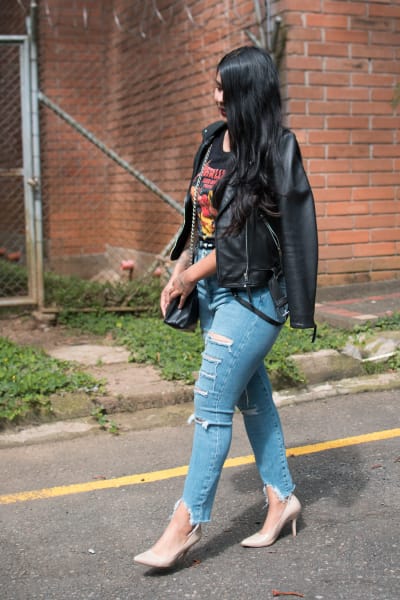 A moment of mixed feelings
When I saw this boy singing, many feelings came to my mind. I was happy, sad and nostalgic at the same time. I felt super happy because I loved the way he was singing.
On the other hand, I felt sad, because sometimes I've asked myself some transcendental questions. I've wondered if somebody would make me choose to give up one of the five senses, which one would I give up? Would I give up seeing?, smelling?, listening?, would I give up the pleasure of tasting my favorite food?… It's a hard choice! But for me without a doubt, I would never give my sight sense up. I've always considered myself as a visual person, so for me losing my sight would be too hard. It would mean to me to lose the wonderful experience of admiring an animal, a breathtaking sunset, or a beautiful flower. For sure, this is something extremely challenging, but not impossible to overcome. The resilience and nerve of this boy was a motivation and proof of that.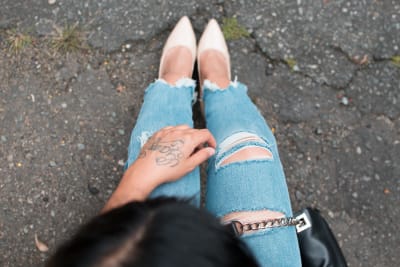 Finally, I felt nostalgic. This experience made me remember Coby, my dog that passed away when he was 17-year old. He was blind, he lost his sight because of a genetic disease. I remember he used to walk around the house beating himself over and over again with the furniture, but he never gave up! He was a very active dog despite his illnesses and age, vets even congratulated me because he was in good shape.
🐶💪🏽 For me Coby was a warrior, he defeated death many times, he had to suffer many illnesses during his life. But despite all of these he kept fighting!.
I remembered Coby during this show because he gave me a resilience lesson. Coby taught me that everybody deep inside, animals and humans, have a spirit that boosts us to overcome any adversity, no matter how hard it can be.
Reflecting about all these things taught me a great lesson for my life. It was an invitation to be brave and strong.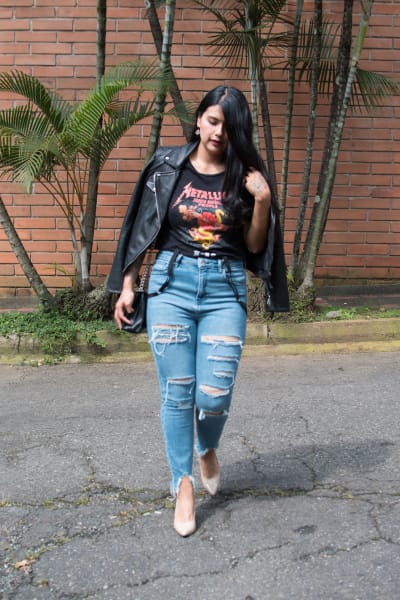 Making this world a better place, with lots of style!
Without a doubt, this wasn't just any kind of event. This show was meant to help kids with visual disabilities. Buying this shirt and attending to this show was a cool way to make the difference and help those who need us.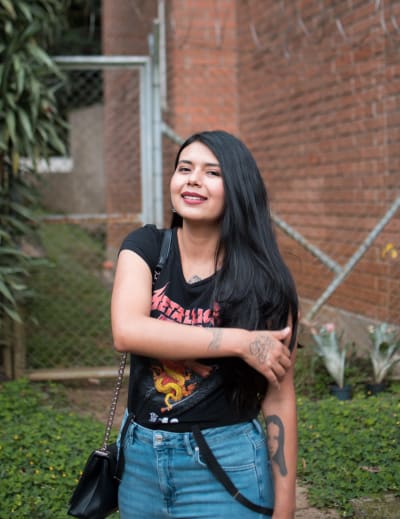 Leaving aside my transcendental side, before I start crying… Hehehe. I wanted to share with you this cool outfit that I put together with my Metallica tee. I love rock band tees, they complement my rocker chic style.
I added a touch even more rocker with my biker jacket, ripped jeans, suspenders and nude heels .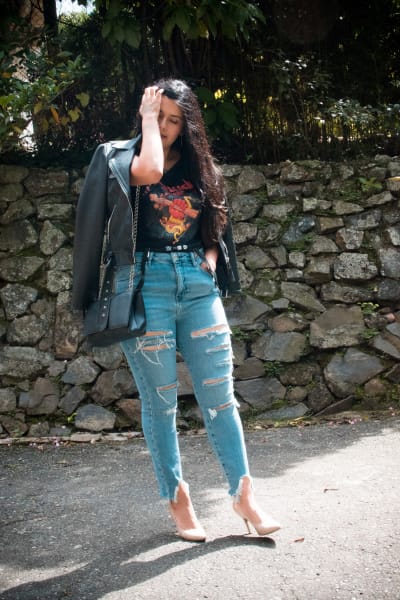 I hope you feel inspired by this article!. Finally, I wanted to invite you to give a little bit of yourself to others. There are hundreds of causes around the world that need you! I personally love helping animals. Unfortunately the condition of stray dogs and cats in my country it's so sad. That's why I try to contribute my grain of sand to help them. I want to change this sad reality .
I'm completely sure that helping others. No matter if it's an animal, elder people, kids, etc… Make us feel fulfilled and give meaning to our lives.
What's your cause?. How do you make this world a better place?. Let me know in the comments below!! 😊