In this post, I want to show you different ways to stylize an aviator jumpsuit to create various looks depending on the style you want to project. Moreover, I'll be sharing with you something about the place where I shot these beautiful photos.
Let's get started!
Aviator jumpsuit casual look
In order to create an effortless look with an aviator jumpsuit, you can mix it with a pair of white sneakers and a biker jacket. I Love this mix!
Aviator jumpsuit sexy look
The detail that makes an aviator jumpsuit feminine and sexy is the cut to the waistband. It makes your waist visually smaller. To make it even sexier add to your outfit a pair of heels!.
In this video, you can see different options to stylize the aviator jumpsuit. Follow me on Instagram for more outfit ideas!
https://www.instagram.com/p/BwSjjj7gaUEiXa-qzdPkWzh5ekiAmtnNWpWCws0/
As you can see there are different ways to wear this garment. Find the style that suits you better!. A style that makes you feel beautiful and comfortable.
Other things that I want to share with you
Besides talking about my outfits on my blog, I love to share about my experiences in the places that I visit. This time is Guatika Park .
Guatika is at Tibasosa - Boyacá . Here you feel a special connection with nature. You can see lions, tigers, bears, and a grand variety of animals. Some of these animals have been rescued from a hard life in circuses.
I think that circuses are cruel shows. What these animals have to endure there it's so sad. Like the confinement, hits, stress, hunger, and pain. All of these can be avoided if every one of us were conscious about not attending these kind of shows.
There are many ways to have fun without harming the life of these wonderful creatures. One way is visiting Guatika to support this beautiful cause! Besides the zoo, Guatika offers other attractions, like horse riding, "Guatikable" —largest canopy in Latam—, skycoaster and wall climbing. Entrance fee is between $8 USD and $26 USD.
Guatika has a hotel — This is the place where I shot these photos. I stayed one night for $99 USD. The hotel is on the top of the park and has a breathtaking sight-seen of Tibasosa .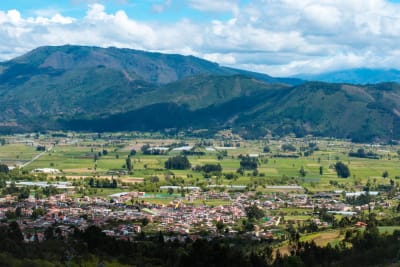 Check out more pics of these beautiful place on my Instagram !
I hope you've found this article inspiring.
Did you enjoy this post? Share it and let me know what you think in the comments below! Adios bonita.