Hola Bonita! Today I want to tell you about a cute town; one of my favorite ones in Colombia. Villa de Leyva is the most popular town in the Boyacá department . Its architecture, weather, and mountains are amazing. You can feel the natural and rustic mood of this marvelous place!
Villa de Leyva has a colonial style architecture. White houses with clay tiles adorned by flower trees. I love it! It is so beautiful!
The flower trees are my eternal love!. 🌺♥️
My Villa De Leyva Experience
I want to tell you a little bit about the places that I visited and the activities I did in Villa de Leyva. There is so much more here to discover. But, I only visited the following ones:
Casa Terracota
I visited a beautiful and unique architectural work called La Casa Terracota. This house was built in clay, and it's inspired by nature. There is a big spider in the ceiling of the living room, butterfly-shaped chairs, big ants walking over the windows, even a naked woman lying in the garden. It's a unique place without a doubt.
Chocolate Museum
This place is so!…so sweet!. It is called the Chocolate Museum. It's a restaurant-museum where you can find the biggest chocolate pot — Olleta in Spanish — and molinillo of Colombia. You can also learn something about cocoa's history.
El Museo del Chocolate has two beautiful spaces. A té room with a Victorian style, very chic!. And a garden outdoors, full of flowers and nature.
You can take a product made from cocoa as a souvenir. I personally loved a bar of chocolate with the shape of the Villa de Leyva's main square.
You need to try the changua, the arepitas boyacenses, and the canelazo!
In Villa de Leyva there are many different options of restaurants and places to have breakfast, brunch, lunch or dinner. There is one place in particular that I loved, called El Solar de la Guaca. It has many different options to choose from: Mexican food, fast food, pizzas or drinks.
I love typical Colombian food! If someday, you come to Villa de Leyva, it's an excellent opportunity for you to try it.
A delicious typical Cundi-Boyacense breakfast is Changua with Arepitas Boyacenses and a hot chocolate. Exquisito!
I am taking this opportunity to tell you about a drink that I love called Canelazo . El Canelazo is a beverage made of aguardiente and panela . It's perfect for the cold nights at Villa de Leyva. Don't forget to try it!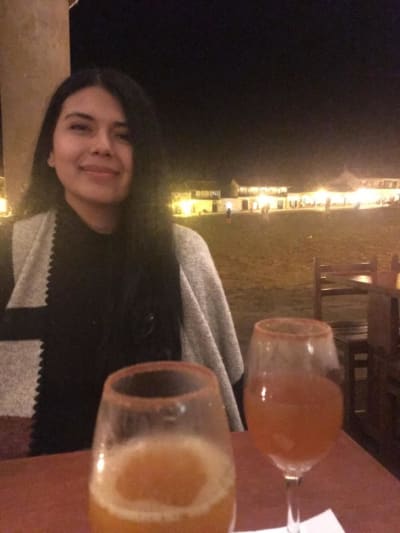 Sybarita Specialty Coffee
I visited Sybarita a specialty coffee shop where I tried a cold V60 made with passion fruit coffee. In Colombia, we call this fruit Maracuyá.
Baristas there are amazing, and they take the time to explain to you everything about the different coffee methods and their history. I love to find people passionate about their work.
Creepy Religious Museum
If you love religious art with a dark touch, you need to visit this place, El Museo del Carmen.
Lots of crucifixes, nuns, relics of saints, crying angels, paintings, and sculptures. Hard not to have nightmares after visiting this museum! :O
Outfit Details
My outfit was simple, a pair of distressed jeans by Forever 21 , a beautiful shirt by Primitiva , Animalista white sneakers, and a white and black bandana by Stradivarius .
An effortless and casual outfit, perfect for wandering the beautiful streets of Villa de Leyva.
I hope you liked this article and that I inspired you to come to visit Villa de Leyva. This beautiful little town of my beloved Colombia.
Don't forget to follow me on Instagram ! Seamos amigas! 🙂
Have a nice day!
Chao 😁