Pencil skirts are feminine, sexy, and extremely versatile. They go with everything!. It is a wardrobe staple that all women should have in their closet.
Pencil skirts can be worn in a non-business way too. To put together pencil skirt casual outfits, you need to mix your skirt with other relaxed garments like chambray shirts, sweaters, or sneakers. I'm sure that you have one of those in your closet.
Give it a try! You'll look modern, chic and people immediately will notice your sense of style 😉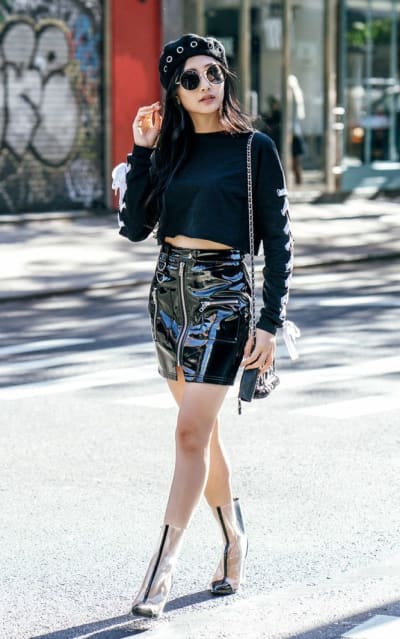 Pencil skirt casual outfits with sneakers
Pencil skirts with sneakers give a modern and casual touch to your outfit. You'll feel comfortable and relaxed, they are the perfect mix! The most basic sneakers you can have in the entire world are a good pair of white sneakers, they go with everything!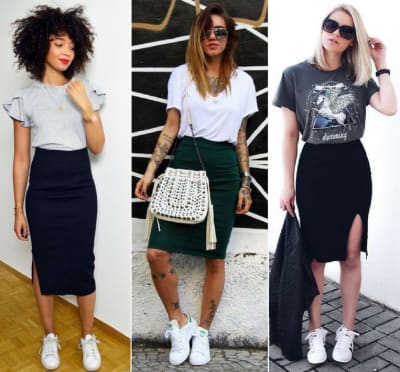 Pencil skirt graphic t-shirt outfit
Mix your favorite graphic tee with a pencil skirt. Complement your outfit with heels, boots or sneakers. It's up to you! To give your outfit a rocker look try to roll-up your shirt sleeves.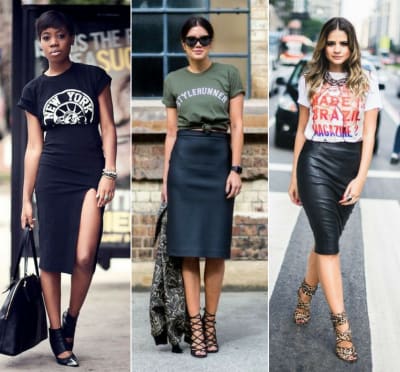 Pencil skirt crop top outfit
Pencil skirts paired with crop tops are a perfect match. Crop tops are a casual garment that looks good in any body shape. Choose high waisted skirts to make your legs look longer. If your torso is short, crop tops will make it look even shorter. For you, it's better to choose longer garments like a blouse or sweater but not in its cropped version.
Pencil skirt sweatshirt outfit
If you love the Sporty Chic style, this is an outfit you need to try! to make it even more fashionable roll-up your sweatshirt sleeves.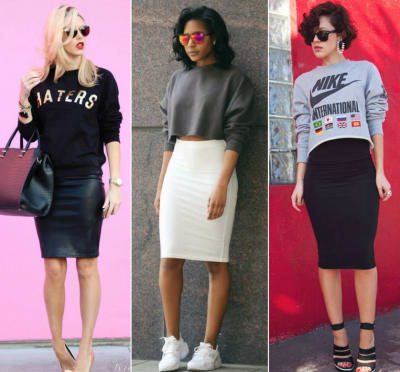 Pencil skirt ankle boots outfit
This outfit is perfect for women with long legs. If you're petite or curvy I recommend you to wear your pencil skirt with ankle boots in a nude color. This will avoid split visually your body into different sections.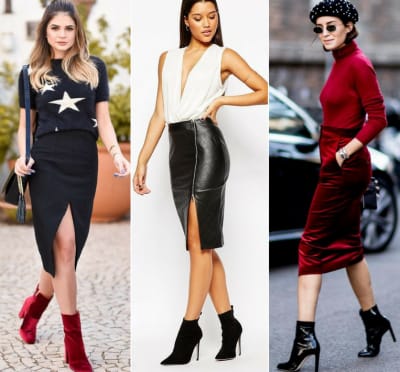 Vinyl pencil skirt outfit
If you want to look chic while wearing vinyl skirts, then pair them with loose fit sweaters or blouses. If you want to look sexy, wear them with body-hugging blouses. All depends on the image you want to project.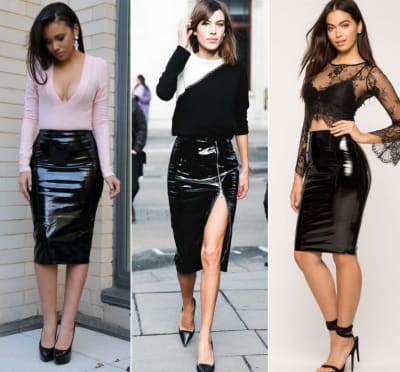 Pencil skirt sweater outfit
This outfit is perfect for a cold weather. To make your legs look longer tuck half of the sweater into your skirt. Once again, roll-up the sleeves of your sweater. There is no stylish look than this. You can wear it with sneakers or high heels.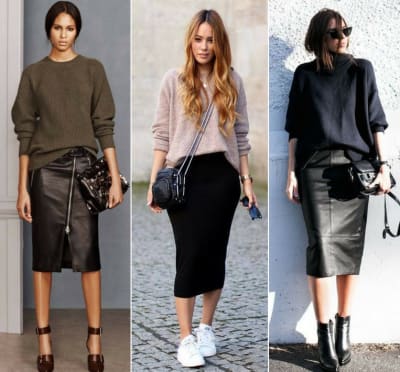 Pencil skirt knotted shirt outfit
A knotted shirt gives you a relaxed look. It's perfect if you want to make your bust look bigger.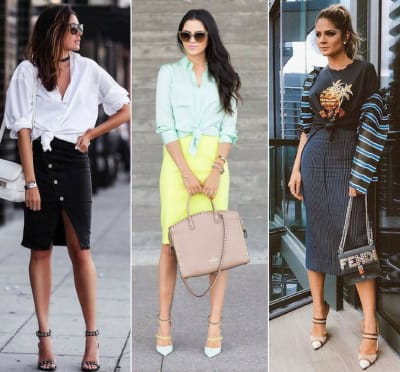 Pencil skirts jacket outfit
Pencil skirts are so versatile that can be worn with a grand variety of jackets like bomber jackets, denim jackets, biker jackets, or blazers. All depends on how you want to look. Do you want to look casual and chic? then, wear your pencil skirt with a blazer, high heels or sneakers. Do you want to look like a rockstar? wear your pencil skirt with a biker jacket.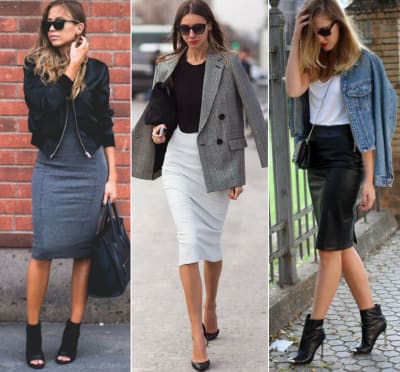 Remember the most versatile pencil skirt is a black one. This neutral color will allow you to create thousands of different outfits.
As you can see, there are many ways to create pencil skirt casual outfits, that are comfortable and fashionable. I hope you enjoyed these tips!
Pin the image below and read this article later! 😉
---